QIPCO Guineas Festival 2017 Handicappers Blog
09 May 17
Bring on the rematch
Saturday's Qipco 2000 Guineas was in many ways an extremely satisfying result, writes Dominic Gardiner-Hill, even if in other ways it was less than clear cut and left some questions unanswered.
Given that last season's champion 2yo Churchill (pre-race 122) and his stable companion Lancaster Bomber (117) represented the best of 2016's juvenile form – they filled the first two places in the Dewhurst – it was pleasing to see them finish first and fourth on Saturday.
They each enjoyed a much cleaner passage through the race than others so it seems sensible to base the race on them.  This suggests that Churchill has run to 120+ (retains his published handicap mark of 122) and Lancaster Bomber to his 117.
In terms of an historical context this is a pound superior to another O'Brien winner Camelot in 2012 and on the same level as Cockney Rebel (2007) and last year's victor Galileo Gold amongst the previous ten winners.  It is some way short of Frankel's 130 in 2011 but, with the other nine winners during that period all performing between 119 and 123, Churchill's performance can be classified as a solid Guineas-winning effort.
Had there been a stronger early pace it is quite possible that the principals could have put more distance between themselves and the like of Eminent in sixth (pre-race 111, ran to 112), Top Score in seventh (pre-race 108 and having his twelfth start) and Spirit of Valor in eighth (pre-race 102).  The proximity of those horses tempers the level of the race.
Where Churchill goes from here is a matter for connections.  From a purely personal point of view I hope he stays at a mile for the time being.  This should allow for a rematch with the placed horses Barney Roy and Al Wukair.  For neither of them did the race go as smoothly as for Churchill and each remain open to further improvement. Barney Roy did not enjoy the undulations of Newmarket and did not help his chance by stumbling for a stride or two in the dip.  Al Wukair was set a stiff task in being held up in a steadily run race.  Under the circumstances both did well to post figures of 118 and 117 respectively. Had things panned out differently it might have been a much closer finish.
Sunday's Qipco 1000 Guineas was run at a stronger pace.  Whereas things dropped perfectly for Ryan Moore on Churchill, they certainly did not for him on Rhododendron who met all sorts of trouble before staying on to finish second to stable companion Winter.
In the previous ten running of the race the best third placed performance was the 111 recorded by Saoirse Abu behind Natagora in 2008.  In fact there has only been one third placed performance that has bettered that since 2002.  We took the view that the effort of Daban, who was third on Sunday, was of comparable quality.  We called her 111 and worked from there.  This means that Winter ran to 116 and Rhododendron to 112+ in finishing second. Rather conveniently this means that both Winter and Rhododendron will now be published at 116 in their native Ireland.  Hopefully time will tell us which is the better filly.
From historical perspective it also means that Winter's performance was above average for the race.  It has been bettered only by Finsceal Beo (119) in 2007 and Minding (118) last year.  It is on a par with runaway 2012 winner Homecoming Queen and with Legatissimo in 2015.
Go online for the Class 1 performance figures
In a move to increase the data available to racing fans the British Horseracing Authority (BHA) has today, for the first time, published the Handicappers' official performance figures from Saturday's Class 1 races.
This will now become the norm with performance figures from all Class 1 races from the preceding Sunday through to Saturday to be published via the BHA website's results pages every Tuesday morning. You can look them up at http://www.britishhorseracing.com/race-info/fixtures/results/.  This is separate to the regular posting of all BHA Official Ratings.
Performance figures are the figures that the Handicapper believes a horse has performed to in any single given race. Performance figures are used as the basis for allotting official handicap ratings though they will often differ from a horse's official rating which will be based on the form a horse has produced in all its recent runs rather than a one-off performance.
Richard Wayman, Chief Operating Officer for the BHA, said:
"Many racing fans enjoy discussing the merit of performances, particularly following the major races, and the publication of our handicapping team's performance figures in all Class 1 races will provide an official perspective to add to such debates. Making these figures available will also help with our ongoing efforts to illustrate the general approach adopted by the handicappers to assessing races."
Marsha's Palace House win the best of the millennium  
The main focus of last week was understandably on the first Classics of the season but the sprinting division also cranked up a notch with two Group 3 races – the 5f Longholes Palace House Stakes at Newmarket and the 6f Merriebelle Stable Pavilion Stakes at Ascot
The former, writes Stewart Copeland, looked a competitive renewal.  Fifteen went to post including the first two home in last year's Group 1 Qatar Abbaye at Longchamp in Marsha and Washington DC. As in that race, they fought out the finish with Marsha proving triumphant again and edging out her old rival by a neck.
In doing so she was the first horse since the brilliant mare Lochsong in 1994 to defy a Group 1 7lb penalty in the Palace House.
Once again Marsha impressed how strongly she travelled through the race and, when asked to deliver her winning challenge, found plenty for pressure. In conceding weight to all Marsha improved on her Abbaye figure of 111.  She has been credited with a new rating of 116. As for Washington DC, I have him reproducing his current rating of 111.
To put the performance in to a historical context, Marsha's rating of 116 is the highest winning figure in the Palace House this millennium.  It eclipses the previous joint high of 114 set by Sole Power in 2014 and Equiano in 2010.
Earlier in the week was the aforementioned Pavilion Stakes with the 3yo sprinters taking centre stage. Since the revamp of the 3yo sprint scene a couple of years back there has been a resurgence in the division.  This year's race promises plenty for the season ahead.
The market was headed by Blue Point and Harry Angel.  They each brought top class juvenile form to the table so it was no surprise that they fought out the finish.
Blue Point had been successful in last year's 6f Group 2 Gimcrack Stakes on the Knavesmire and also an excellent third to Churchill in the 7f Group 1 Dewhurst Stakes at Newmarket on his final start.  He showed that he has trained on with a thoroughly professional performance. Tracking the pace travelling well, he was asked to assert over a furlong out and soon had the race under control.  He won a shade comfortably by a length and a half. I have him running to 114+ and his rating remains at 116.
In chasing him home, last year's 6f Group 2 Mill Reef Stakes winner Harry Angel ran his best race to date.  In contrast to his vanquisher, Harry Angel is still not the finished article on this evidence. He took a fierce hold early in the race which did himself few favours.  Then, when he came to throw down his challenge, he still looked green under pressure. All things considered this was still a most creditable performance, even more so given he was conceding 4lbs to Blue Point. I have Harry Angel improving his rating from 110 to 114.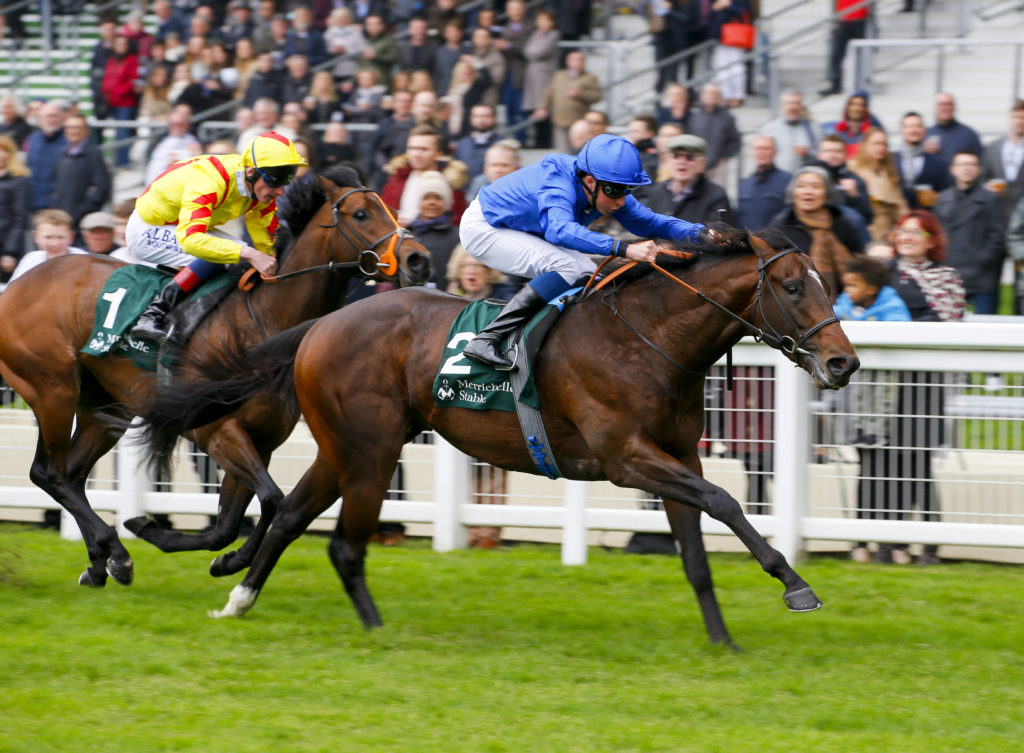 Handicappers help trainers a thousand times
Last week saw the thousandth time that an owner and trainer managed to get a run for their horse using a new rule which was championed by the Handicappers.
Over the years, writes Matthew Tester, owners and trainers have hated to have horses whose ratings finished in a one or a six.  This was because so many of the rating bands for handicaps end with a zero or a five.  At certain times of year that one pound could make all the difference between getting into a race next week and having to wait until next month.
A new rule came in from mid-December.  In most handicaps a horse that is a pound or two above the rating grade can run carrying the extra weight as long as there is space for him in the race.  Nobody for whom the race was originally programmed is ever thrown out to make room for the +1 horse.  But, if the race has not filled, the +1 horse gets in.
From the point of view of the owner and trainer, they get a chance to run their horse when it would otherwise not be an option.  From the racecourse's point of view they get an extra runner that they would not have had.  From the betting point of view the race gets an extra competitive edge and, in some cases, each way bettors gets an extra place.
The Handicappers as well as the Racing Department were all too aware of how difficult the placing of horses can be.  We do not want horses sitting in their boxes at home when they are ready to go to the races.  This is why we championed the proposal and helped to get the rule introduced.
The split of the 1012 runners has been about 60/40 Flat over Jumps.  There have been 102 winners on the Flat and 59 over Jumps with Chase winners just edging ahead of Hurdle ones.  Trainers have been very keen on the initiative and we have had nothing but support from them.
The relationship between Handicappers and trainers is not the open warfare that some people might imagine.  It is more like the one between referees and footballers.  We are there to facilitate a fair contest between competing horses.  Like referees, if we can see a rule change which would help the game, we are happy to propose it.